Intro:
We have completed upgrading our vCenter to 6.5 in an earlier post and now its time to upgrade vSphere hosts to 6.5 using VMware Update Manager embedded into vCenter. One can also upgrade using a local attached ISO through ILO or directly attached storage never the less a smart automatic hands-free upgrade is what everyone looks for especially with environments having hundreds of servers and thousands of production VMs.
Consider the following prior to upgrading your servers to vShpere 6.5:
NSX is not supported yet on vSphere 6.5 and you would receive an error related to NSX VIBs not being compatible.
If VSAN is being used, be very careful with what is configured in terms of replication factor and fault tolerance to avoid VSAN failing incase parallel upgrade has been selected.
DRS Fully Automated has to be disabled while upgrading.
Make sure vCenter and PSC are upgraded to 6.5 before upgrading vSphere hosts.
Upgrade:
1- Download vSphere 6.5 from MyVMware Portal (vSphere ESXi 6.5).
2- Login to vCenter 6.5 Web ( Web is the only option now 🙂 ), Click on Cluster, and Click on Update Manager on the right.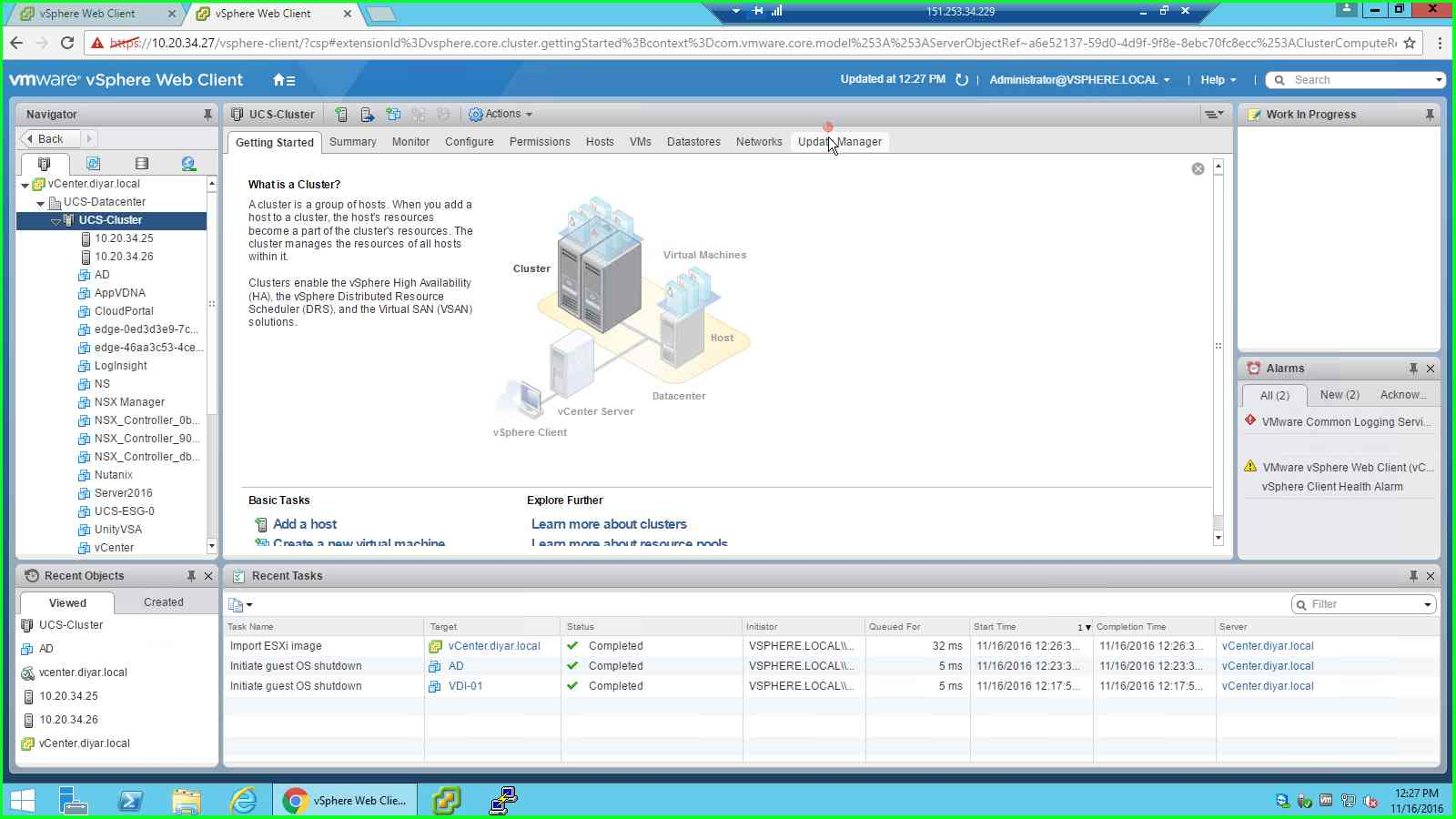 3-  Press on "Go To Admin View" on the right.
4- Go to ESXi Images and Press on Import ESXi Image …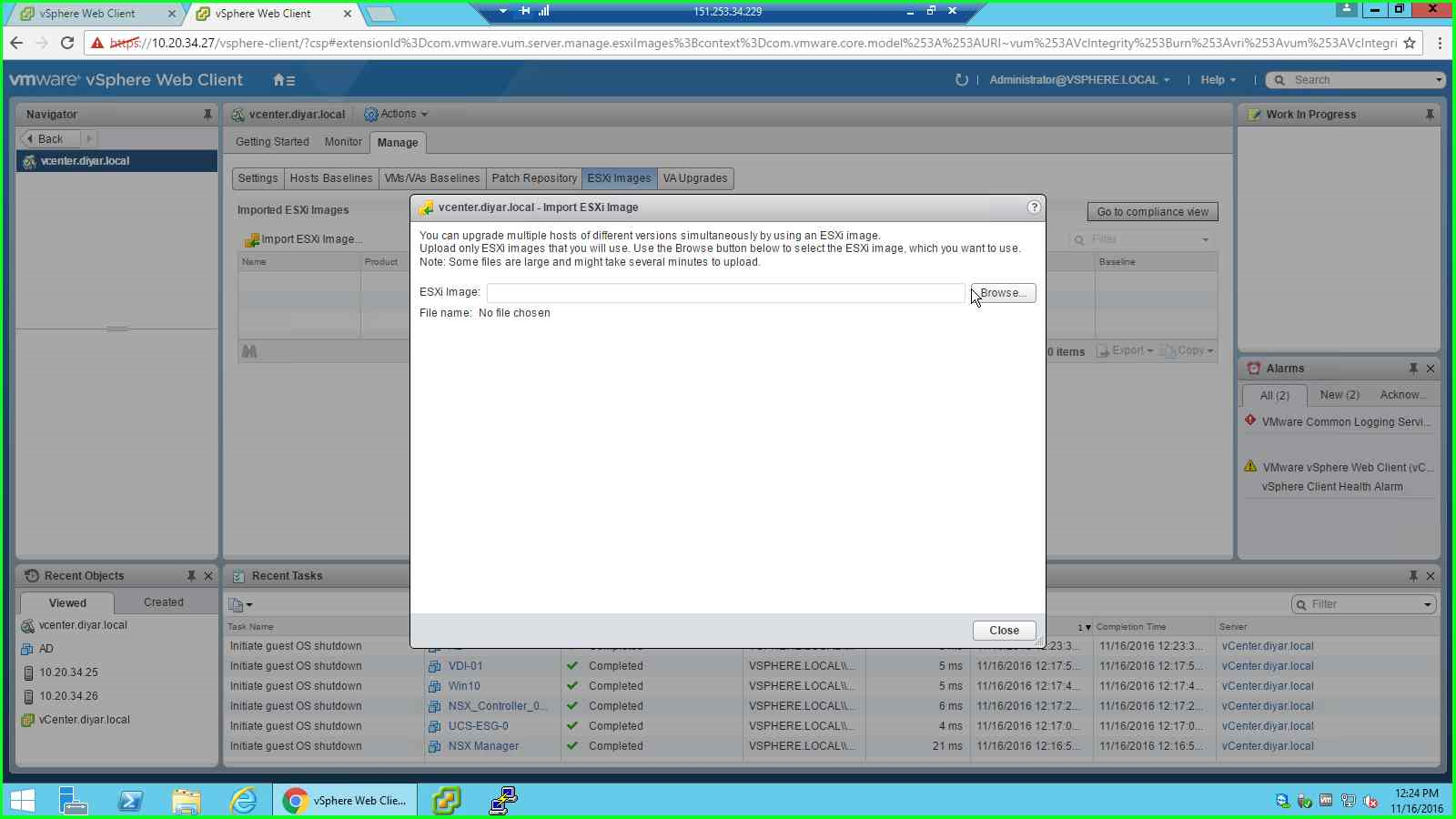 5-  Browse to downloaded ESXi 6.5 ISO image and upload.
6-  Verify Uploaded ISO is correct.
7-  Go to "Hosts Baseline" and Press on "New Baseline"…
8-  Choose a name and "Host Upgrade" as baseline type.
9-  Choose ESXi image uploaded earlier.
10-  Verify input and click Finish.
11-  Click on "Go To Compliance View".
12-  Press on "Attach Baseline"
13- Choose BaseLine created earlier for hosts upgrade.
14-  Press on "Scan for Updates", Choose "Upgrades", and OK.
15-  Cluster hosts or independant host will show as Non-compliant to baseline.
16-  Click on "Remediate …"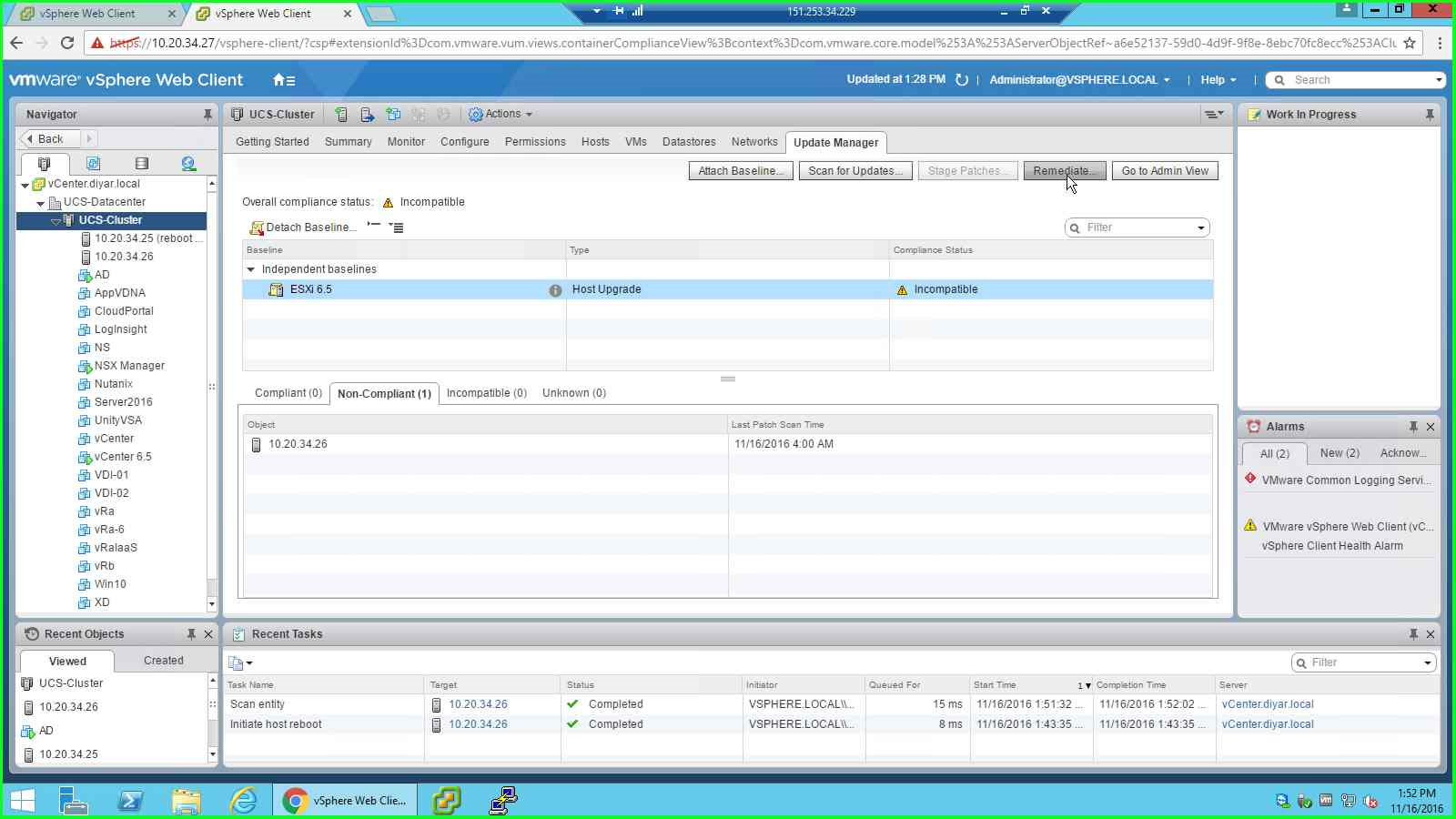 17-  Choose BaseLine created earlier for 6.5.
18-  Choose Cluster hosts that need to be upgraded to 6.5 .
19-  Accept EULA.
20-  Press Next to start upgrade immediatly or schedule accordingly.
21-  Cluster Remediation Options is the most important tab for the upgrade process. DPM must be turned off, FT must be turned off, and HA admission turned off for cluster being updated to avoid any failovers while servers are being upgraded. DO not check Parallel remediation especially for VSAN clusters unless you really know what you are doing but the risk outways the benefit by all means.
22-  Verify Input and press Finish.
The process will begin by placing servers ( single server at a time untill its fully upgraded and operational again ) from the cluster in maintenance mode after Vmotioning all running VMs and upgrading.
23- After the whole procedure is complete, the cluster hosts should show as compliant in Update Manager View tab.
Conclusion:
After verifying all servers are updated and operational, it would be best if VMware tools is upgraded on all VMs and VUM can be utilized to do the same. Also if you are using VSAN then updating the VSAN cluster is recommended.
Salam :).