Intro:
Now that VMware vCenter 6.5 has been officially released, it is time to upgrade from 6.0 u2 to 6.5. vSphere 6.5 has also been released so I will publish another post after VCSA 6.5 has been upgraded to show how integrated VUM (  Mware Update Manager comes embedded with vCenter 6.5 VCSA) can be leveraged to upgrade vSphere 6.0 u2 servers to vSphere ESXi 6.5 automatically.
Note the following before upgrading:
With vCenter 6.5, Installable C# client has been depreciated and you can only connect through Web (Flash). 
Do not upgrade to vSphere 6.5 if you are using NSX.
Enable SSH on vCenter.
The upgrade is an actual deployment of a new vCenter with a migration copy of existing vCenter data so it is not a local update on the same VCSA. 
DRS Fully Automated to be disabled throughout the upgrade process. 
Fully Backup & Snapshot your vCenter VMs.
For External PSC, use the same upgrade procedure but make sure to upgrade PSC first and upgrade vCenter after that. vCenter wizard automatically detects kind of VCSA deployed and upgraded accordingly. Make sure to enable SSH on PSC & vCenter. 
Upgrade:
1- Download vCenter 6.5 and vSphere 6.5 from MyVMware Portal (ESXi 6.5 | vCenter 6.5).
2- Read the release notes ( vSphere 6.5 Release Notes ).
3- Mount the vCenter ISO on a machine that has network access to your vCenter and launch "E:\vcsa-ui-installer\win32\installer.exe".
4- Click on Upgrade.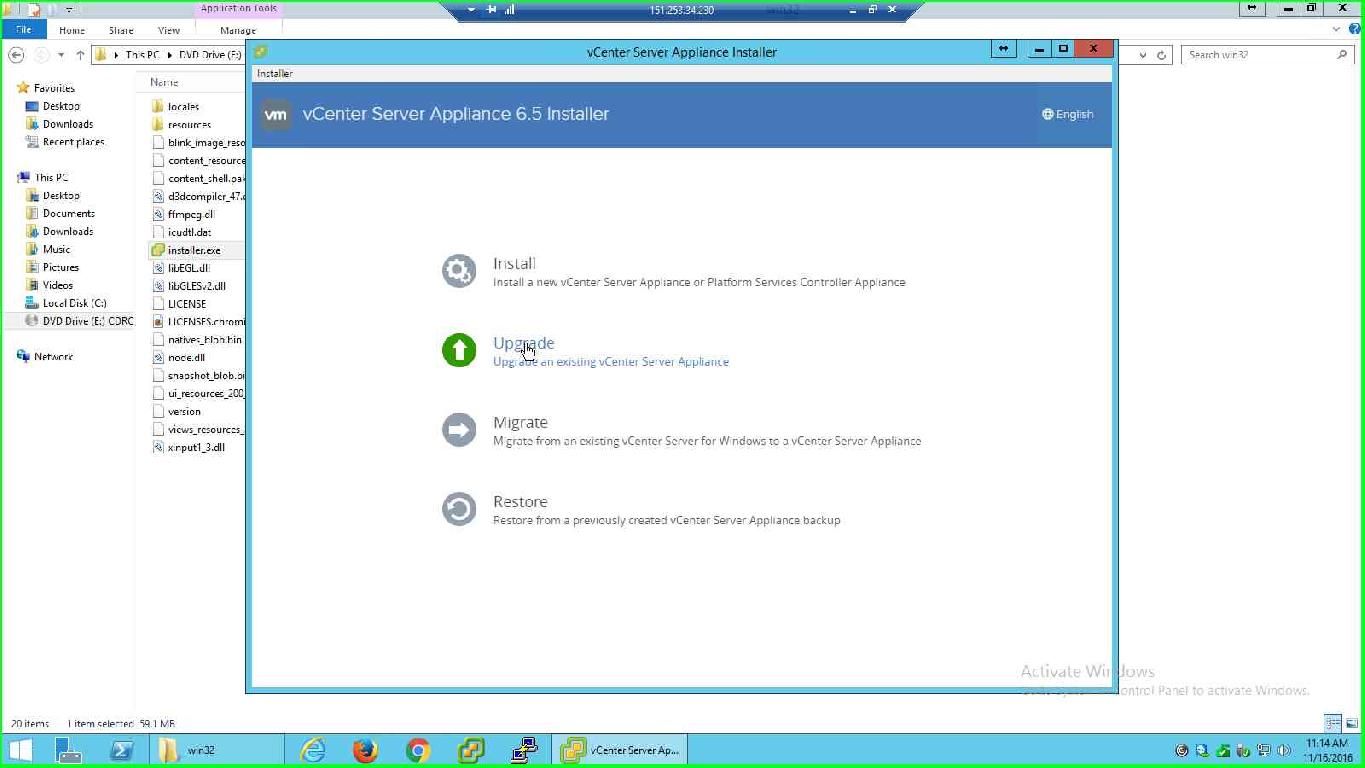 5- Click on Next.
6- Click on Accept EUA and Next.
7- Fill in the blanks as explained below:
Appliance FQDN or IP : The IP of vCenter appliance 6 u2 we are upgrading.
Appliance HTTPS port: If you havent changed default keep 443.
SSO username: Depends on your PSC SSO domain , default is @vsphere.local .
SSO Password: password of PSC SSO domain admin, thus password of administrator@vsphere.local .
Applaince OS password: password of root account for vCenter appliance.
ESXi host or vCenter: IP of ESXi where existing vCenter is currently running. DO NOT USE vcenter IP or hostname (not mandotary but would save some time later on and less risk of failure).
HTTPS Port: If not changed on default install keep 443.
Username: Root for ESXi host.
Password: Root password for ESXi host.
8- Accept Certificate Warning.
9- Fill in the blanks as explained below:
ESXi Host or vCenter: IP of ESXi host we are deploying upgraded vCenter to. (I would prefer to deploy to same ESXi host).
HTTPS Port: 443.
Username: Root account of ESXi host for-mentioned.
Password: Root account password for local ESXi host.
10- Fill in the blanks as explained below: 
VM name: Name of newly upgraded vCenter appliance.
Root Password: password of local root account on new upgraded vcenter appliance.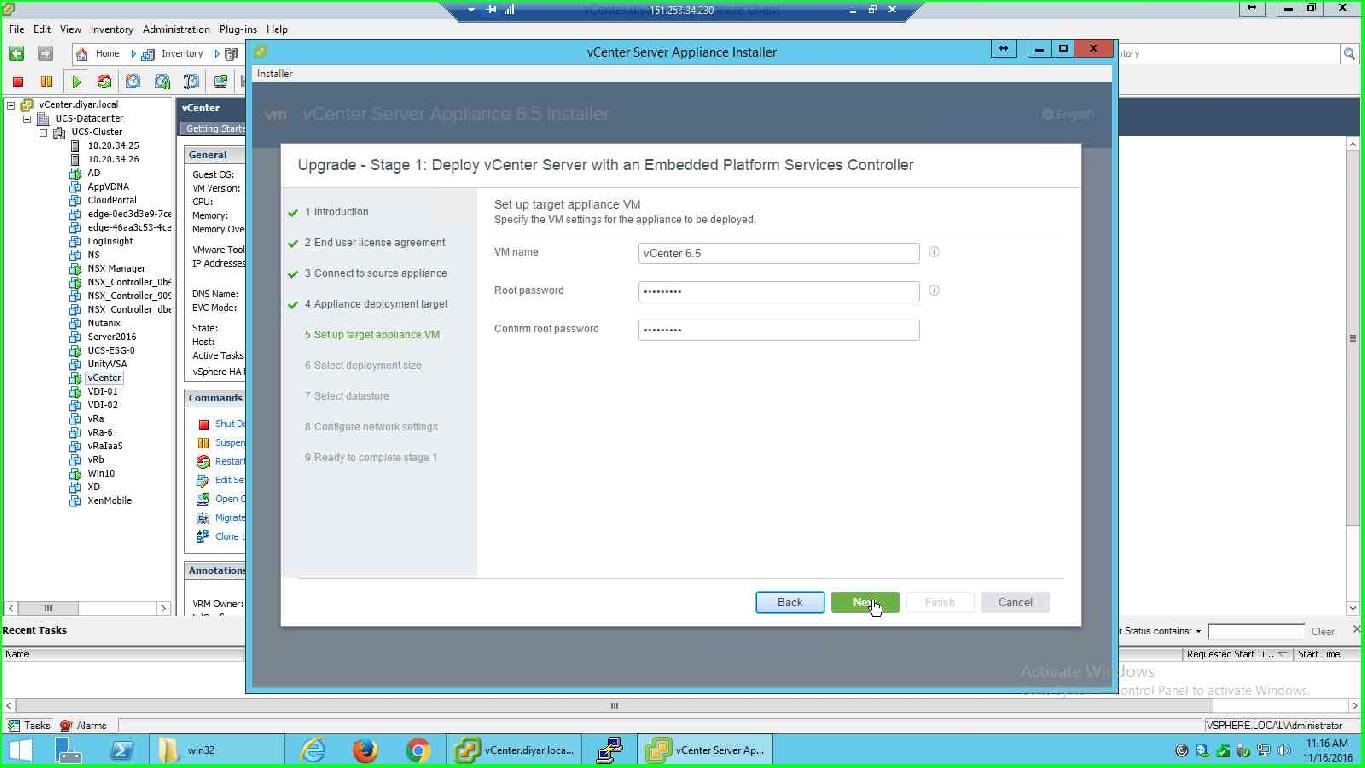 11- Choose Deployment Size based on environment requirements.
12- Choose which Datastore to save newly created upgraded vCenter appliance VM on. Choose shared disk if deploying to a cluster.
 
13- Fill in the blanks as explained below:
Network: Network accesible to environment.
Temporary IP: Can be static or DHCP. This will be changed later to original existing vCenter IP after phase 2 of migration is completed so for now assign a temporary available IP on same subnet.
14- Verify details and press Finish.
15- Wait untill Stage 1 upgrade deployment is completed.
16- Press Continue to start phase 2 of migration where settings will be copied from Existing vCenter server to newly deployed upgraded vCenter 6.5 including all settings and hostname/IP . Note that if in phase 1 earlier you chose to deploy to vCenter not to specific ESXi the coming tab configuration will be blocked out because existing vCenter needs to be shut-down thus connection would be lost if connecting to vCenter to copy settings, for this you would close this windows and go to the newly deployed vCenter IP:5480 and the continue migration tab will appear with option to point to ESXi instead of vCenter then you would proceed same as listed below.
17- If as explained earlier ESXi was chosen for deployment then this would proceed automatically with pre-upgrade checks.
18- Choose Configuration, events, tasks, and performance metrics then press Next.
19- Press Next.
20- Verify input and press Finish.
21- Press OK for Shutdown Warning.
22- Wait for confirmation of phase 2 deployment.
23- Verify New vCenter is accesible on same old IP/Hostname and config is operational.
24- Verify vCenter appliance is accesible and settings correct (Look out for NTP). https://vcenter:5480 .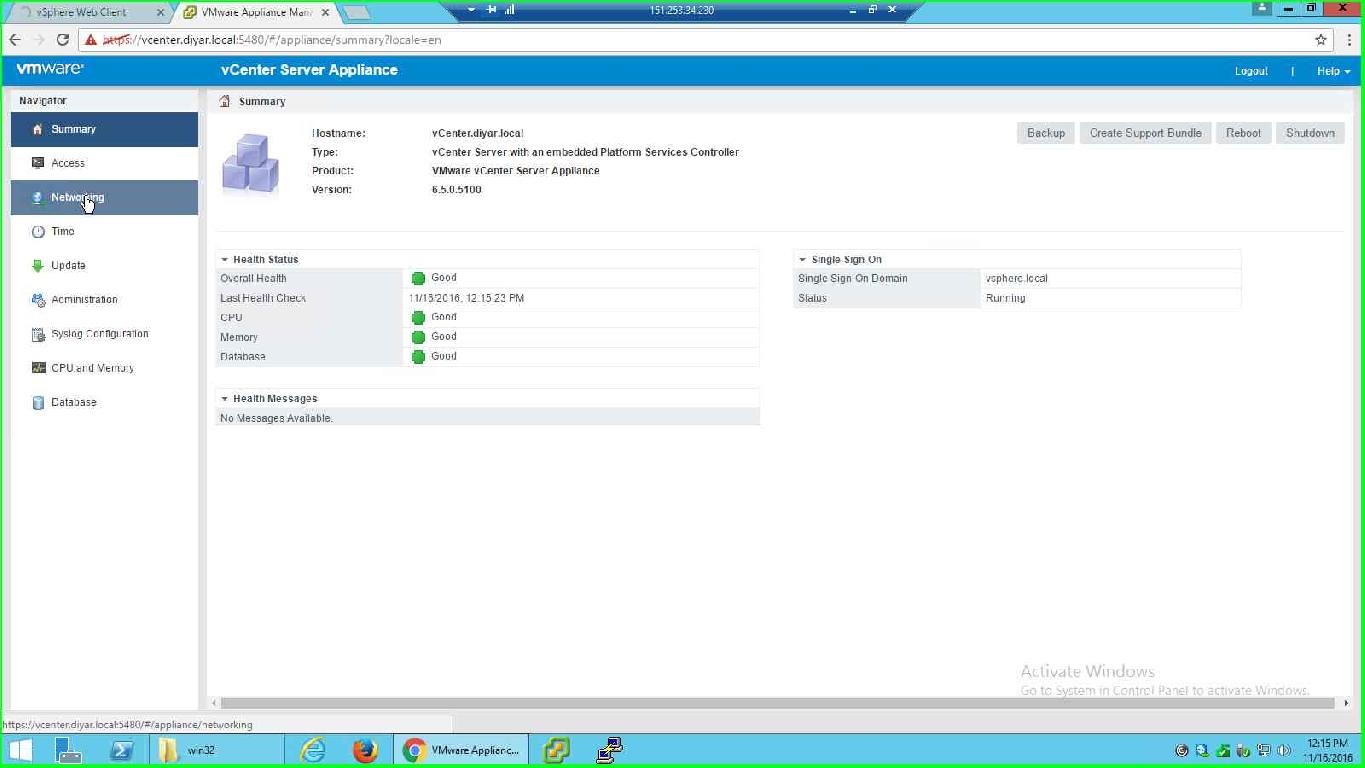 25- Double Check 🙂 C# client not operational anymore.
26- Delete Old vCenter server and your done.
Conclusion:
Now that vCenter is upgraded and operational, time to upgrade our vSphere hosts to 6.5 automatically (If you have a cluster with shared storage and licensed for DRS) using the integrated VUM. Stay tuned for a second post.
Salam 🙂 .