Introduction
VMware just released vCenter 7, vSphere 7, and vSAN 7 to the public introducing long awaited features such as Kubernetes integration, Improved DRS, Lifecycle Manager, intrinsic security, and hybrid cloud services. In this post I am going to walk you through an upgrade from 6.7 to 7 for vCenter , vSphere through Lifecyle Manager, and lastly vSAN.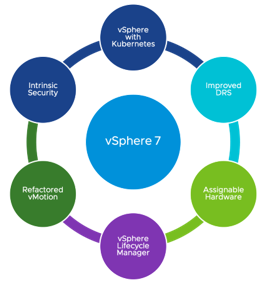 More importantly before upgrading, and I am sure many of you know this the hard way, lets check the release notes and important information on 7 build to visualize what will and will not work after this major upgrade on top of known issues and limitations.
vSphere 7 with Kubernetes Release Notes
Last but not least, verify the interoperability of all VMware and Non-VMware deployed components for vSphere, vCenter, and VSAN 7 compatibility. Things to look out for are NSX(V/T), vRealize Suite, and/or any service that integrates with vSphere or vCenter such as backup software for example. Also make sure that vCenter is backup-up and has a recent snapshot prior to upgrade. Seems that it is still not up to date at least for NSX-T so give some time to update, I have seen that NSX-T latest is supported in the release notes at least for vSphere 7. NSX-T 3 has been released and supports vCenter/vSphere 7.
VMware Product Interoperability Matrices
A very important change in my humble opinion and one that I have been personally waiting for, is the depreciation of the external PSC and the Windows based vCenter. The reason being that external PSC HA required load balancing which for a core infrastructure component does not make sense to rely on external services. When PSC is embedded, vCenter HA will handle all services installed on that vCenter including PSC functionality thus the HA needed for vCenter does not rely on any external component.
vSphere 7 – vCenter Server 7 Migration & Upgrades
Direct upgrades to vSphere 7 are not supported from vSphere 5.5 and 6.0 hence any of these versions need to be upgraded to 6.5 or 6.7 to conduct a direct vSphere upgrade to vSphere 7. For some reason I could not find the upgrade path for vCenter so I am assuming that the same applies, upgrading and converging PSC for vCenter appliance from 6.7 to 7 worked out well for me. Again make sure that the latest patches are applied to both vSphere and vCenter.
Now, if you have a Windows vCenter with or without an external PSC or a vCenter appliance with an external PSC, vCenter 7 upgrade will automatically converge the external PSC thus you will end up with a single converged vCenter with an embedded PSC. To make it easier, make sure to upgrade you vSphere and vCenter 6.7 to the latest release before upgrading to 7 so that the embedded PSC convergence functionality which can be done manually prior to upgrade has the latest updates.
Note that although Kubernetes features are part of vSphere yet the functionality required other components as well to activate such as NSX and SDDC Manager which if combined with all other components simply means VMware Cloud Foundation (VCF 4). So don't expect out of the box functionality after upgrading to vSphere 7 in regards to Kubernetes.
vSphere with Kubernetes 101 Whitepaper
How to Get vSphere with Kubernetes
We will start with vCenter upgrade/convergence first then move to vSphere nodes and eventually upgrading vSAN Disk to version 11. VSAN 7 introduces embedded native file services so that's a big improvement but is currently only supporting NFS not CIFS.
Upgrade
vCenter
Download the new vCenter 7 ISO from MyVMware and mount the ISO on a machine that has access to vCenter and vSphere hosts.
If you have a Windows vCenter then use the Migrate option while if you already have a vCenter appliance then use the Upgrade option. Regardless, both will converge the PSC if its deployed externally.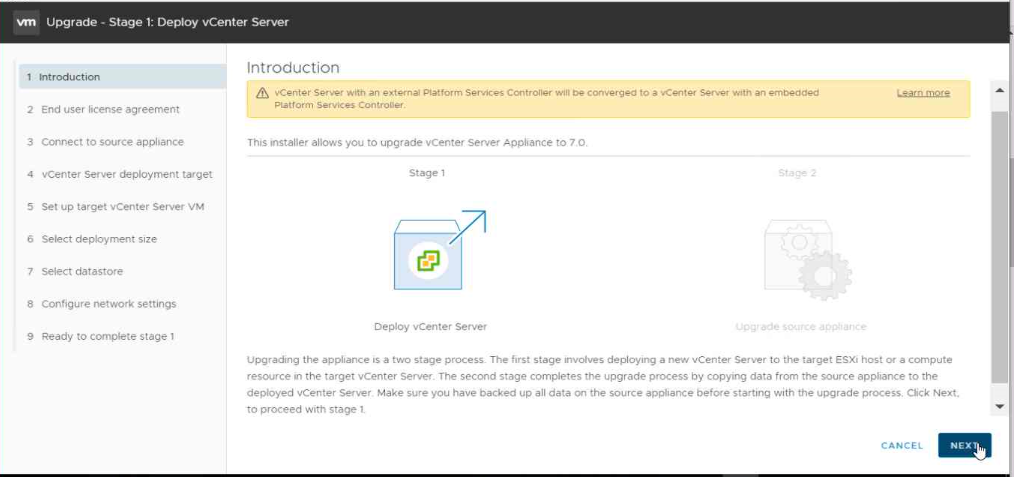 Enter the IP or hostname of the source vCenter that is going to be upgraded. To avoid DNS issues, I like to use IP for the same.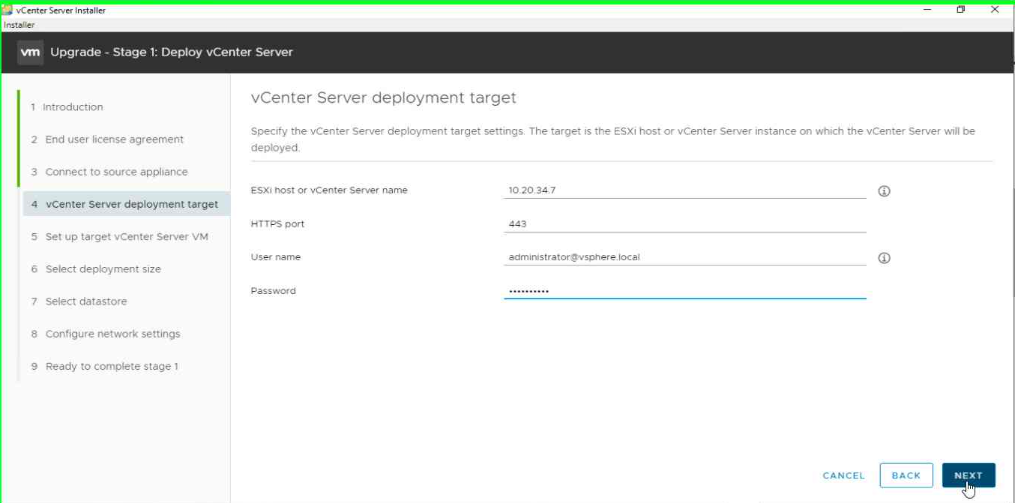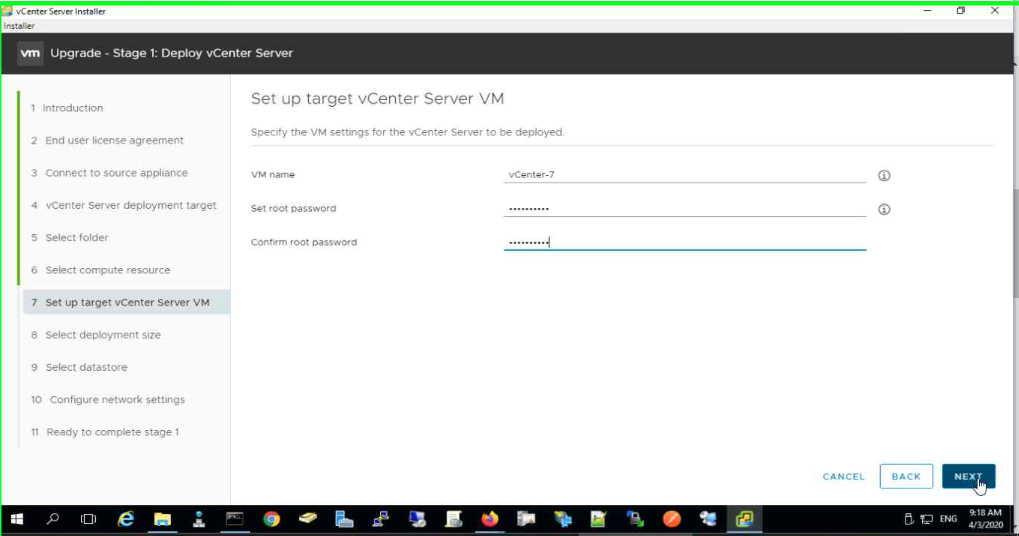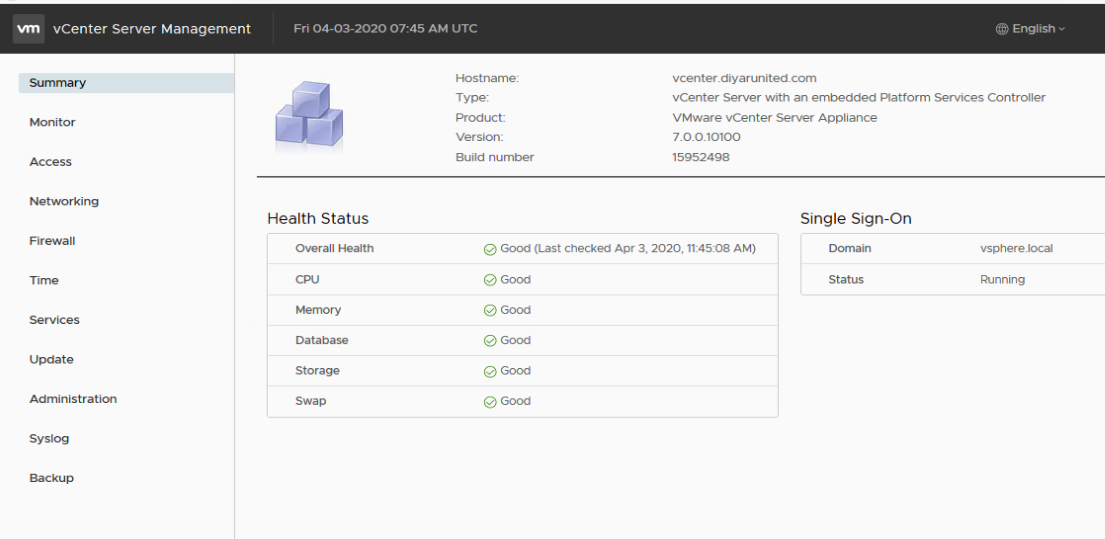 vSphere
Download the new vSphere ISO from MyVMware and upload it to Lifecycle Manager then create a new upgrade baseline that will be attached to the vSphere cluster that needs to be upgraded. Switching to black theme mode is also cool.
Create two baselines, one for the upgrade which will be used once and one for patching the new vSphere 7 build which would include security, bug fixes, and system patches.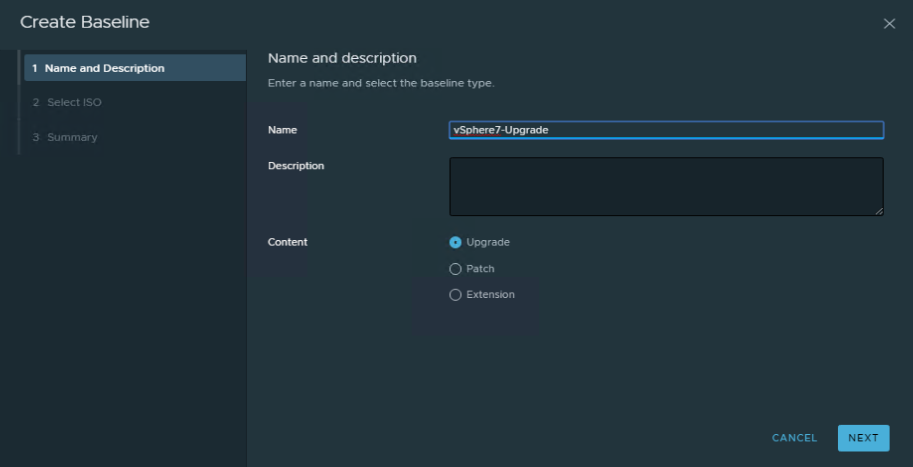 I will un-assign the existing patch baselines since they apply for 6.X and add the one I have created which includes all types of patches. This is a lab so make sure to assess how you want to create and assign baselines.
Make sure that DRS Fully Automated is configured so that everything is automated especially the vMotion of VMs and the enter maintenance mode for servers. Seems that my lab severs have an old RAID card that is incompatible with vSphere 7. I will continue the vSAN part of another cluster that has 4 nodes and vSAN enabled.
After every server has been updated, restarted, and removed from maintenance mode, verify that everything is up to date and stable before proceeding with vSAN upgrade. Lastly upgrade VDS to 7.0 to get NSX-T 3 support for NSX-T distributed port groups.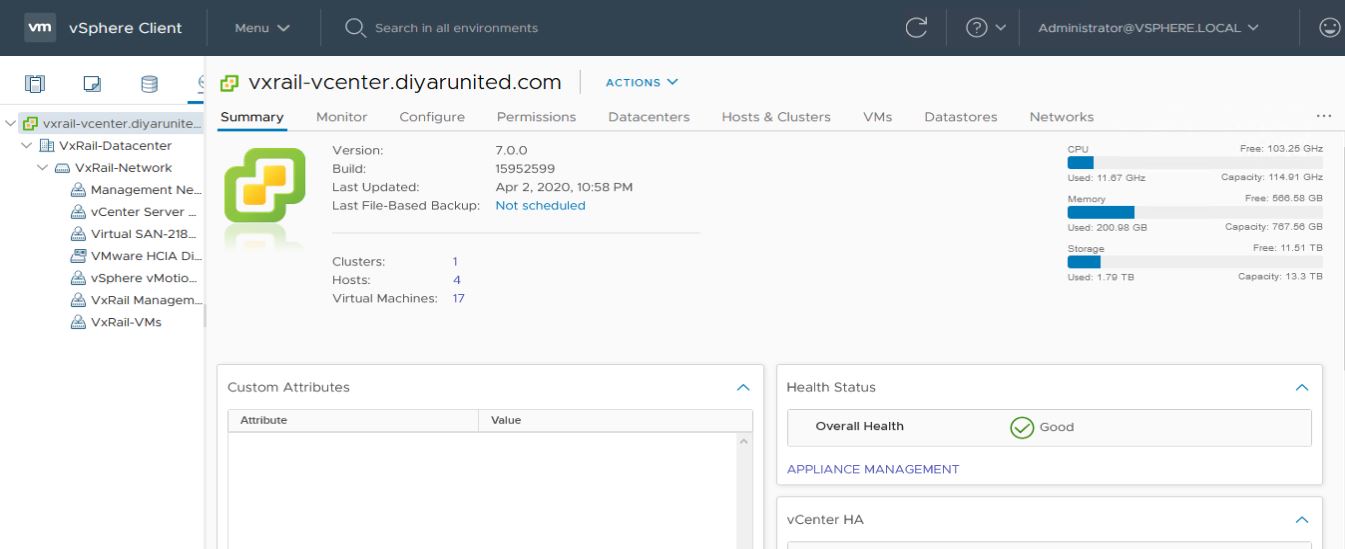 vSAN
vSAN will only require an update for the disk version as everything else is part of the vSphere upgrade since vSAN is an embedded feature of vSphere. New services such as native file services are now available after vSphere has been upgraded. Navigate to Cluster – Configure – vSAN – Disk Management to update the disk version.
Do not choose Allow Reduced Redundancy in any production environments upgrade. Disk upgrade will take some time and utilize extra resources depending on the size of utilized disk and block features enabled. Run the Pre-Check Validation first then upgrade preferably after working hours ( No down-time operation ).
Conclusion
I had no issues upgrading a 4-node vSAN cluster  to vSphere/vCenter/vSAN 7.0 so the operation is really smooth. This build is a game changer not only for VMware but for the industry and most importantly us, the architects, administrators, support, and pre-sales. A lot of time is going to go into Kubernetes, containers, cloud-native, hybrid cloud, and other terms that have become an inescapable reality.
May the Peace, Mercy, and Blessing of God Be Upon You